- - - Bridget Irish : performance artist / entertainer




"Hot Potato" - SWAS Tour 2007 (live performance documentation stills from different shows)



performance resume

acting credits



Bridget Irish, born on St Patrick's Day, lives and works in Olympia, Washington.

In addition to making short films and videos, Irish also works in still image, installation,
sound and performance art. In most of her live performance work, Bridget uses her body
as the medium in tandem with pop-culture referents, parody and game-rule strategies
while stimulating relationships between artist and audience as an integral part of her process.
Her approach aims to challenge and dismantle boundaries between spectator and performer
as she playfully engages audience participation through direct interaction and physical contact.
Given the improvisational and intuitive nature of her work, these pieces have as much to do
with challenging the viewer as herself.

Bridget Irish has exhibited nationally, solo and collaboratively.
In 2001, she toured with Dr. Frockrocket's Vivifying (Re-Animatronic) Menagerie and Medicine Show,
printing shamrocks with her body and performing Twister as living sculpture. During the summer of 2005,
Ms. Irish began drumming for SECS (a performa-band with songs and skits about the 9-to-5 life),
before moon-lighting with the Sex Workers Art Show Tour in 2006, dashing and crawling through audiences
across the nation to find her clothes, and again in 2007, to collect potatoes in her pantyhose.




Undercover: Reverse Strip-Tease (Irish with envelope)
SWAS Tour - Boston show, March 2006
[photos courtesy of Aliza Shapiro, Truth Serum Productions]



performance resume


GROUP PERFORMANCE TOURS

2007 Sex Workers Art Show National Tour (26 cities in 30 days, at various venues and colleges such as
the Washington Center for the Performing Arts, Olympia WA; Reed College, Portland OR; UC Santa Barbara, CA;
Zeitgeist Gallery, New Orleans LA; College of William and Mary, Williamsburg, VA; Patterson Theater,
Baltimore MD; Coolidge Corner Theater, Boston, MA)

2006 Sex Workers Art Show National Tour (26 cities in 30 days, at such universities and art spaces as
Café du Nord, San Francisco, CA; UCLA, CA; UC San Diego, CA; University of Texas, Austin;
Flying Monkey Arts, Huntsville AL; Rutgers University, New Brunswick NJ; The Knitting Factory, NYC NY)

2001 Dr. Frockrocket's Vivifying (Re-Animatronic) Menagerie and Medicine Show West Coast Tour:
Midnight Sun, Olympia WA; ReBar, Seattle WA; Meow Meow, Portland OR; Community Youth Center, Santa Cruz CA;
Milk, Los Angeles CA; Jon Sims Center, San Francisco CA


SELECTED GROUP PERFORMANCES AND EXHIBITIONS

2009
Mommy Mommy! presents: Daddy Daddy! - compactspace - Los Angeles CA (Hot Potato)
17th Annual Festival of Experimental Musics Film Showcase (curator: Brandon Phelps) - Capitol Theater - Olympia WA (from the compass comes a circle)
Bend It Queer Pride Festival - Volunteer Park - Seattle WA (Night on Disco Mountain)
Performance Happy Hour - Phyllis Stein Art - Los Angeles CA (Fox & Flesh, Hot Potato)
I Love You - Capitol Theater - Olympia WA (Night on Disco Mountain)
12 Minutes Max - On the Boards - Seattle WA (Hot Potato)

2008
You Have A Body - 25th Annual Olympia Film Festival - Capitol Theater - Olympia, WA (The Fox and the Flesh)

2007
see GROUP PERFORMANCE TOURS

2006
6th Annual X-Fest SLC (Sarah Lawrence College Experimental Film and Video Festival) - Bronxeville NY (Guest filmmaker/performer)
Sex Workers' Art Show National Tour (28 cities in 30 days...)


SWAS 2006 show in Olympia included collaboration with Carli Davidson (as Bush)
and Shizuno Wynkoop (as fellow Freedom Fighter) for special performance involving WMDs!

2005
RockRGrl Music Conference (Seattle WA) with SECS
Ladyfest Olympia -- with SECS
Locust Fundraiser (curated by Melinda Holm) -- LoFi, Seattle WA

2004
Stonewall Youth Drag Show - Capitol Theater - Olympia, WA ("Robin Hood" home movie w/live narration)

2003
Bands Against Bush - Capitol Theater - Olympia, WA (Bush Flag, with Shizuno Wynkoop as Nixon)
9th Annual Olympia Festival of Experimental Musics - Midnight Sun - Olympia, WA (To the Moon - An Operetta in 3 Acts, as Cat and Bunny, with co-performer Bryan Connolly and live music by Warren Lee and John Reed)
Stonewall Youth Drag Show - Capitol Theater - Olympia, WA ("Robin Hood" home movie w/live narration)
Sex Workers' Art Show - Capitol Theater - Olympia, WA (Pussy - Event Pet)

2002
Ladyfest DC (Bush Flag, with artist, Kathryn Williamson)
Stonewall Youth Drag Show - Capitol Theater - Olympia, WA ("Robin Hood" home movie w/live narration)

2001
Tour with Doctor Frockrocket's Vivifying (Re-animatronic) Menagerie and Medicine Show 10th Annual Queer Performing Arts Festival - Boston, MA (w/Frockrocket / Where's the Craic? and Twister)
Sex Workers' Art Show - Capitol Theater - Olympia, WA (Undercover: Reverse Striptease)
Stonewall Youth Drag Show - Capitol Theater - Olympia, WA ("Robin Hood" home movie w/live narration)




I Say I Am - Ladyfest Midwest - Chopin Theater - Chicago, IL (Untitled: space odessey with beanbag)
Active Ingredients: An Investigation of Painting Today (Bush Flag and Co-Host with Kathryn Williamson) - Salon Series Prime Time: Sponsored by the San Francisco Art Institute - San Francisco, CA
Circus for the New Year - Commencement Art Gallery - Tacoma, WA (with artist, Michelle Kline)

2000
15 Minutes: An Evening of Performance - The Lab - San Francisco, CA (Where's the Craic?)
Ladyfest Olympia - Capitol Theater/Midnight Sun - Olympia, WA (Alter Ego Mistress of Ceremonies for 6 day festival)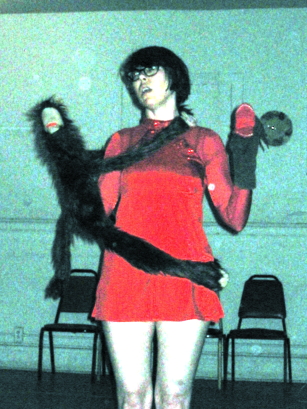 Dust in the Wind / Hot Potato - - Yr Heart Breaks CD Release show, June 2006 [special thanks to Clyde for taking photos!]



acting credits : narrative

LESBIAN JERKY - dir. Kanako Wynkoop
2009 / USA / 6 minutes / DV - Color - English
- - female co-lead (woman wearing glasses)

BUTTHOLE LICKIN' - dir. Kanako Wynkoop
2008 / USA / 6 minutes / DV - Color - English
- - female co-lead (woman wearing glasses)
Recipient of Best Humor award - The Seattle Stranger's 4th Annual HUMP Fest

THE SAVAGE STREETS (formerly THE SAVAGE PLACE) - dir. Bryan Connolly
post-production, 2008 release / USA / 75 minutes / DV - B&W - English
- - female lead : Detective Kate

BAD APPETITE (BIRD FLU USA) - dirs. Bryan Connolly & Dylan Sharp
2007 / USA / 28 minutes / Video - Color - English
- - cult member : Lil Bean

LET THEM EAT BRAINS - dir. Josh Johnson
2004 / USA / 15 minutes / 16mm-to-video - Color - English
- - female lead : Coral

JACK & VIRGINIA - dirs. Josh Johnson & John Reed
2004 / USA / 15 minutes / 16mm-to-video - Color - English
- - female lead : Virginia



Last Update : September 2010




films and videos

photography



Bridget Irish
P.O. Box 2372
Olympia WA 98507
united states
bridget_irish (at) riseup.net



press >< reviews

curating & teaching experience l education

published work l recordings l collections



Back at the Front: FILM AND DESTROY